Subscribe: Omny | Spotify | iTunes| YouTube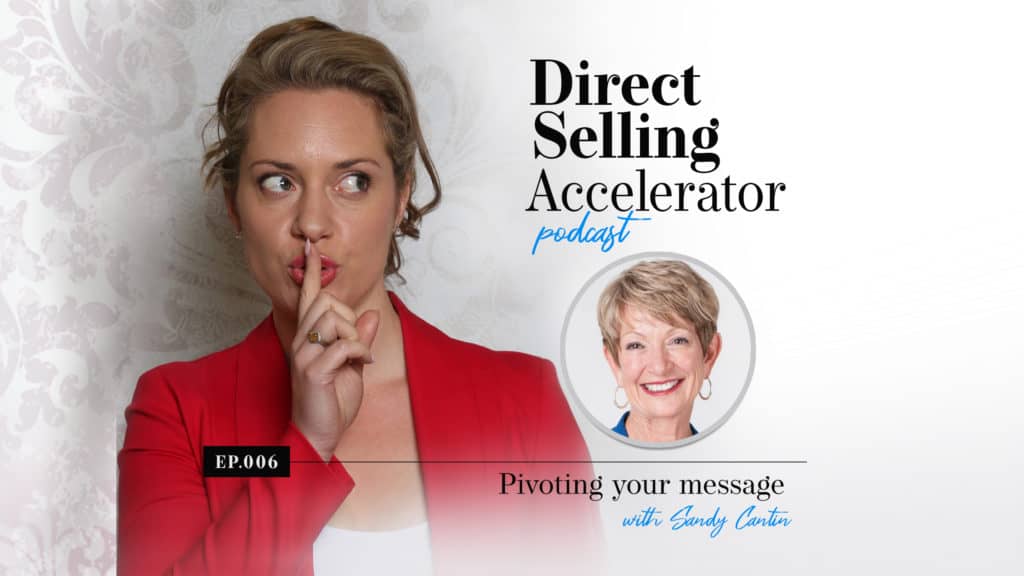 Everyone is going through a lot right now. Business disruptions, school closings, and loss of jobs have led to upheaval of the everyday life people have gotten used to. There is so much pain and hardship being experienced, and people are vulnerable.
They say that a crisis like this makes it ripe for some businesses to make money. But people at this time don't need someone trying to force products or services onto them. What do they need?
We're facing a time when change is necessary. Today, Sandy Cantin teaches us how we can pivot and adjust the conversations we have with people during this time to stay relevant. It's important that we avoid taking advantage of people at this time, so Sandy tells us how to leave people with an impression of our business that gives them joy.
This is your chance to connect and minimize the pain people are facing. If you're a direct-seller wanting to know the best approach to reach people during this crisis, then tune in now.
We'll be talking about:
Growing your business in the middle of the crisis

[07:15]

Examples of reframed messages

[13:20]

The power of a like-minded community

[19:22]

The importance of adding value and improving other's lives

[21:54]

Examples of conversations that feel good and add value

[24:40]

Prioritising personal interaction

vs cut and paste messages

[33:52]

Her Facebook page and Facebook group

[38:10]
About Our Guest:
Sandy Cantin has a passion for redefining the direct-selling industry. She's the owner of a Facebook group called Redefining Network Marketing. She's also all about providing people in this industry the knowledge, skills, motivation, and inspiration needed for them to have the business of their dreams.
Having been in business on both sides of the world and having worked in corporate and on the field, Sandy has a 360 degree view of direct selling. She works not only with direct sellers, but also with corporate offices as she helps them grow their business.
You can visit Sandy's Facebook Page or join her women-only Facebook Group.
Resource Links:
Connect with Direct Selling Accelerator: 
If you liked this episode, please don't forget to subscribe, tune in, and share this podcast.